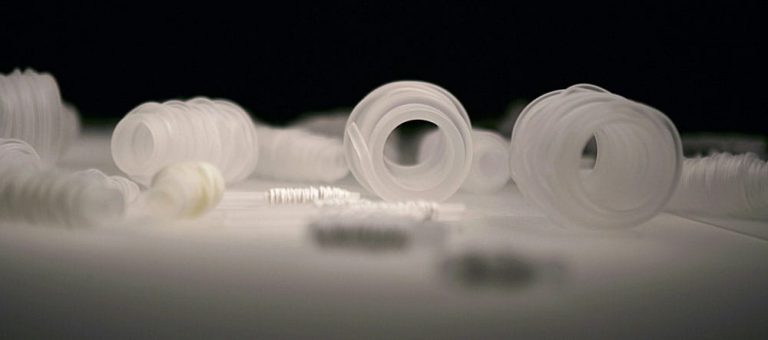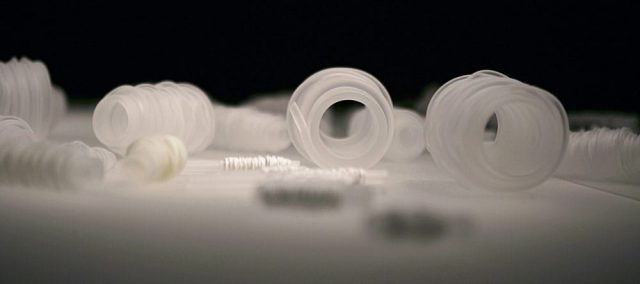 project statement

Rewinds, 2010
Glass, 6 x 90 x 136 inches overall
Catalog: "Anne Wilson: Wind/Rewind/Weave" is published by the Knoxville Museum of Art in conjunction with WhiteWalls Inc. and distributed by The University of Chicago Press. This 175-page publication includes essays by Chris Molinski, Glenn Adamson, Jenni Sorkin, Julia Bryan-Wilson, Philis Alvic, and Laura Y. Liu. Contact The University of Chicago Press for purchase.
Wilson was first introduced to the glass medium as an Artist in Residence at the Pilchuck Glass School. In watching the movement of the gaffers, she realized the relatedness of textile processes to glass — glass is flexible and can be fibrous when molten to bend, spin, wind, and wrap. By translating fiber bobbin-winding and rewinding into glass, Wilson was able to exploit aesthetic analogies between these two materials and modes of production.
The sculpture, Rewinds, is comprised of a large horizontal glass platform, an architecturally aligned carpet-like space, filled with an array of glass weaving bobbins. Organized in a relationship to the working processes of sorting sizes and colors in piles and rows, these objects imply a transitional state of use-function. The sculpture implies a workspace, a topography of use.
From a larger social perspective, the rewind project addresses issues that exist within highly technological societies (a renewed enthusiasm for hand crafting and tactility in response to digital screen culture) and most of the world where objects such as these rewinds represent conditions of labor, economic survival, and a very non-romantic presence of the endlessly busy hand. In fundamentally clashing social, economic, and cultural contexts — from the Tibetan refugee weaving studios in northern India, to European couture workshops, to the weaving studios in western art schools — fiber rewinds exist as objects of similar function and practical resourcefulness. They are how textile workers save small lengths of fiber for later re-use. In Wilson's sculpture, the medium of glass fixes the process in time and elicits meditation on highly disparate cultural contexts about art, cloth, and cultural production.
project credits
The production of Rewinds was made possible through Wilson's residencies at the Pilchuck Glass School, Stanwood, Washington (2005); the Museum of Glass, Tacoma, Washington (2006); and the Rochester Institute of Technology (RIT), School for American Crafts, Glass Department (2006). This work was accomplished with the remarkable glass skills of gaffers and glass artists Jessica Julius, Nancy Callan, Katherine Gray, Kimberly Pence, Ben Cobb, Alex Stisser, Conor McClellan, and students from RIT with support from Michael Rogers and Robin Cass. Special thanks to Jessica Julius who was a most exceptional artist assistant at Pilchuck; Kimberly Pence whose expertise with cold work guided the completion of the work; and Paul Marioni who first introduced Wilson to the extraordinary medium of glass.
research
No other point in history offers a more striking example of cloth as a means to social and political change than Gandhi's use of homespun and hand-woven cotton (Khadi) in his diligent and heroic fight to bring about India's independence from Britain. Gandhi believed the act of home spinning could provide people with a practical means of making a living and economic self-empowerment through a local economy of labor and production without reliance on trade with Britain. Gandhi's fight for weaving and spinning was an attempt to give back a sense of power and personal agency to those he was fighting for, and it offers us insight into how an everyday practice can take on a larger meaning.
The current resurgence of craft as art/hobby and the DIY movement in the U.S. speaks to a variety of conditions, one of which is a fight for agency in the production of our goods. With the flood of digital technologies and the emergence of hands-off living strategies, a desire for more tactile and hands-on experiences has arisen. In the late 1990's, as a result of various changes in international textile trade agreements, a steep hike occurred in the percentage of textile goods imported to the U.S., as did a dip in textile labor performed on U.S. soil. A vast disconnect has hence grown between buyer and product, wearer and maker as more and more production takes place overseas. Textile processes such as weaving, spinning, and knitting are experiencing a revitalization, as people become engulfed in these cultural changes and wish to regain personal agency in regards to the goods we purchase and wear everyday.
– Annie Egleson, Studio Intern, Summer 2007, in conversation and research with Anne Wilson