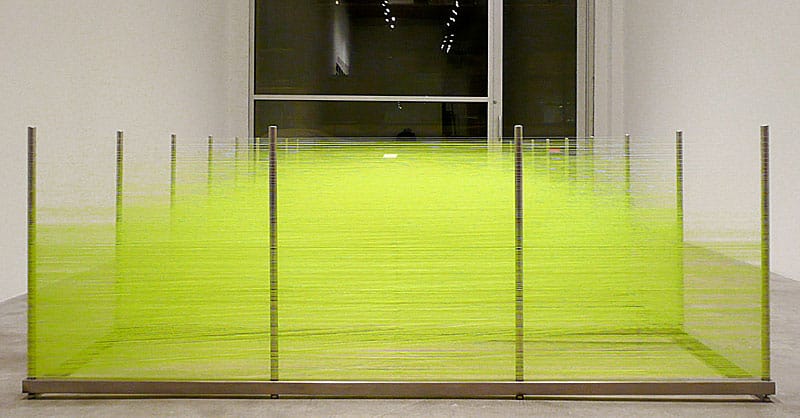 project statement
Anne Wilson, Wind-Up: Walking the Warp, performance and sculpture
Performance January 20 – 25, 2008
Rhona Hoffman Gallery, 118 North Peoria Street, Chicago
Anne Wilson: Portable City, Notations, Wind-Up exhibition
January 21 – March 1, 2008
Wind-Up: Walking the Warp was one of three interrelated projects in Wilson's 2008 exhibition at Rhona Hoffman Gallery. As both a movement performance and sculpture, Wind Up actualizes concepts in Wilson's Portable City on a physical human scale.
Nine participants accomplished the performed labor or "walking the warp," converting the front gallery into a six-day performance of walking, counting, rolling, and winding. The rhythmic act of building a 40-yard weaving warp on a 17′ x 7′ frame was viewed from the Peoria Street sidewalk and resulted in a sculptural presence within the gallery.
participants Wind-Up: Walking the Warp
The performance warping team included Sara Rabinowitz, Carla Duarte, Annie Egleson, Jongock Kim, Rosemary Lee, Christy Matson, Rachel Moore, Rana Siegel, and Anne Wilson. Jeroen Nelemans (DVD) and Surabhi Ghosh (still photos) documented the project. Sara Rabinowitz designed the gallery publication and Ghosh assisted with publication guidance. Mike Slattery fabricated the stainless steel frame; Kristin Frieman contributed clothing from her line RedShift; Judith Leemann, Mark Jeffery, and Fred Nagelbach offered their wisdom; and Joan Livingstone generously gave her studio for practice sessions.
Download Notes on Wind-Up: Walking the Warp in pdf format.
Download credits / drawings / research in pdf format.