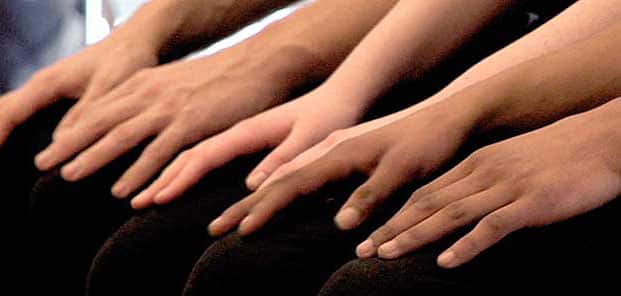 Anne Wilson, Walking the Warp Manchester
February 25, 1-5 pm, 2012
Whitworth Art Gallery, Manchester, England
Performed within exhibition COTTON: Global Threads, February 11 – May 13, 2012
Artists: Yinka Shonibare MBE, Lubaina Himid, Anne Wilson, Abdoulaye Konaté, Aboubakar Fofana, Grace Ndiritu, and Liz Rideal
Exhibition Curator: Jennifer Harris  / Assistant Curator: Amy George
Wilson's movement performance Walking the Warp Manchester was staged February 25, 2012, from 1-5 pm at the Whitworth Art Gallery in Manchester, England within the exhibition COTTON: Global Threads. Working with composer Shawn Decker, collaborating choreographer Bridget Fiske, 21 dancers from The Lowry Centre for Advanced Training in Dance, and textile students from Manchester Metropolitan University, Wilson choreographed accumulations of repetitive movements relating to the weaving process. The interaction of bodies in space metaphorically becomes both a textile and a soft machine, responding to the deep histories of cloth production in northwest England. Performing labor as a meditation on the complex subject of textile production today is a critical foundation of this work.
The first action within the choreography interprets the process of winding a bobbin, the second action interprets a traditional warping procedure in which the weaver walks the warp, and the third action responds to the counting and measuring critical to all warping and weaving processes. In the fourth and final action, the dancers' movement becomes dense and machine-like, referencing the historical steam-driven engines of Lancashire cotton mills.
Shawn Decker's music composition paces all movement within the performance at 80 beats per minute, responding to a post-minimal rhythmic aesthetic extending from African drumming. Interspersed with the consistent mallet rhythm are interpretative passages of work music — Delta blues/American southern work songs, Scottish/northern English spinning songs, New England mill town and Irish fiddle tunes – eliciting recognition of place and history through music.
This performance is also contextualized by Wilson's artworks in the adjacent gallery at the Whitworth. Projections of 2 earlier walking performances in Chicago and Houston are projected on the gallery walls. As well, the Local Industry Cloth is displayed. Collectively woven by Wilson and 78 weavers in a museum factory at the Knoxville Museum of Art in 2010, this cloth provided the color palette from which the MMU student dyers drew inspiration for the dancers' costume. Also presented are 17 Egyptian 1st millennium cloth fragments from the Whitworth's deep collection of historic textiles, curated by Wilson to show an historic continuum in the use of a stripe image as foundational to a woven textile.
Other contemporary artworks within the exhibition COTTON: Global Threads provide another frame for Walking the Warp Manchester. Six other artists participate with major projects that together speak about contemporary and historical global intersections around textiles and the materiality of cotton. These artists are: Yinka Shonibare MBE, Lubaina Himid, Abdoulaye Konaté, Aboubakar Fofana, Grace Ndiritu, andLiz Rideal.
participants Walking the Warp Manchester
Choreographer: Anne Wilson
Composer: Shawn Decker
Collaborating Choreographer: Bridget Fiske
Dancers: Students from The Lowry Centre for Advanced Training in Dance
Mahmood Ahmed, Ruaridh Bisset, Harry Brooks, Megan Charnock, Orla Collier, Tama Czernuska, Joe Delaney, Skai Donnelly, Niamh Honey, Emily Laing, Madeline Miller, Heather Oakes, Shannon Platt, Danielle Pollitt-Walmsley, James Rosental, Michael Scotland, Jessica Stafford, Patrick Sullivan, Jacob Tomlinson, Tyler Whitworth, Verity Wright
Costume Dyers: Students from Manchester Metropolitan University, Textiles
Katy Stoor, Georgia Smith, Sophie Watson, Heather Tribe, Rachel Clayton, Nikki Jones, Lauren Naylor, Lauren McNickel
Videographer: Jess Shaughnessy, iCity Media, Manchester
Whitworth Multi-media Technician: Luke Lovelock
The artist thanks the following individuals for their contributions to this project:
Jonathan Poole and Sally Powell, The Lowry Centre for Advanced Training in Dance
Stephanie Howe, Whitworth/MMU dye project coordinator
Alice Kettle, Sally Morfill, Nigel Hurlstone, and Jane McKeating, Manchester Metropolitan University, Textiles
Tanya Fleisher, Anne Wilson Studio project assistant
Karolina Gnatowski and students of the Fiber and Material Studies Department, School of the Art Institute of Chicago