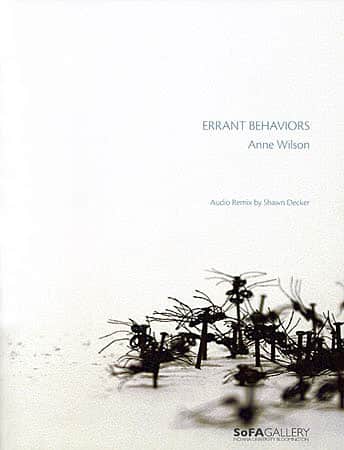 To purchase, send $18.00 (includes shipping and handling) in check or money order to:
Rhona Hoffman Gallery
1711 West Chicago Avenue
Chicago, IL 60622
catalogue description
Anne Wilson: Errant Behaviors (ISBN 0-9772972-0-9)
Audio CD remix by composer Shawn Decker enclosed within a self-adhesive CD sleeve in the inside back cover. Essay entitled "Errant Behaviors: Reanimating the Past" by Bruce Jenkins. (Jenkins is a Professor in the Department of Film, Video, New Media, and Animation at the School of the Art Institute of Chicago. As a curator and critic, he specializes in the interface between the moving-image and the visual arts. His writings have appeared in October, Wide Angle, and Millennium Film Journal, and in exhibition catalogues for the Albright-Knox Art Gallery, Buffalo; Centre Georges Pompidou, Paris; the Museum of Contemporary Art, Los Angeles; Wexner Center for the Arts, Columbus; and Fundacio Antoni Tapies, Barcelona.)
Published by the School of Fine Arts (SoFA) Gallery at Indiana University, Bloomington in conjunction with the exhibition "Errant Behaviors," February 11 – March 11, 2005.
Betsy Stirratt, Gallery Director. Dana Sperry, Associate Director.