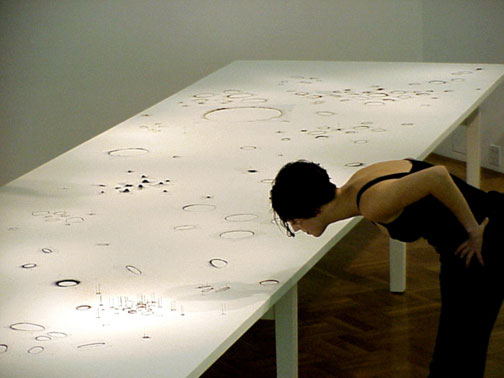 Feast, 2000
Hair, thread, cloth, pins, painted wood table
22' long x 5.5' wide x 2.5' high
Collection MCA, Chicago

This huge dining table implies a social space, the interaction of diners, and different histories of use. The holes and linear tears pinned to the table are fragments from found dining linen, stitched open with human hair and fine thread. They can be seen as remnants from dining, or from the long-term use of the table linen, removed from its original context. In contrast to Wilson's framed works, these holes have a connection to their origin through their horizontal presentation on the table surface. The varied colors of hair and the many shapes and sizes of the holes and tears form a topography of absence and memory, suggesting a mapping of the internal body and landscapes beyond the physical body.
From wall label, Museum of Contemporary Art, Chicago,
"Anne Wilson, Anatomy of Wear," July 8 - October 8, 2000
---