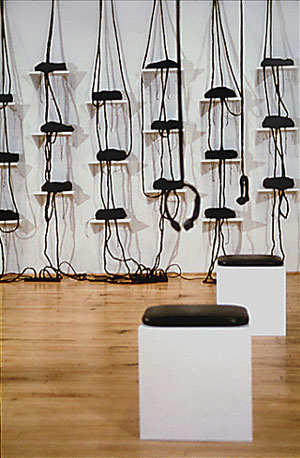 Anne Wilson

TOLD & RETOLD: an inquiry about hair
Anne Wilson in collaboration with A.B. Forster
(presented at REVOLUTION gallery in both Detroit and New York locations, fall 1998; and at The Museum for Textiles Contemporary Gallery, Toronto, March 1999)

This work is a physical sound installation extending from Anne Wilson's an inquiry about hair web site. Selected texts gathered from web site research are re-told by original authors, or other participants, and re-contextualized within this project.

The following is an excerpt from Gerry Craig's review of the sound installation in Fiberarts magazine, summer 1999:

The artists successfully fuse the anonymous and the disembodied with the public and corporeal by establishing a listening room where viewers' own hair is the only physical presence of hair, and where recorded voices and viewers' responses activate a palpable intimacy.

The back wall of the installation is the brain, the nerve center, holding a series of shelves for the multiple audio cassette recorders. Long cables attach the recorders to headsets lining the two side walls, drawn out from the electronic server space like strands of hair. Sheathing all electronic components (recorders, cords, cables, headsets) in black fabric gives references to funeral shrouds, slipcovers, or even dressing up, all of which camouflage the true nature of their understructure. By altering our visual impression of technology which gathered and now delivers the narratives offered by Internet surfers, our attention focuses on the audio/tactile/visual qualities of a sensual experience, not a text-based one like the original Internet response. Since the audio is loud enough to be heard only through the headset, it remains a private activity, never sure if others in the room are hearing something very different than what is being played on your headset.

The great strength of "Told & Retold: an inquiry about hair" is the artists' ability to recontextualize the cyber stories into physical form without losing their original immediacy and power, changing our flawed assumptions that we universally understand the state of being alive. It takes us beyond the rhetoric of gender, racial, or social obsessions with hair to the specificity of powerful individual stories brought forward by the worldwide invitation to respond.

---